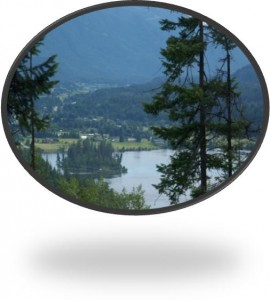 The history of Gold Island Forest Products
The Company's  name was inspired by its location which overlooks a small island on the Kootenay River. This island dates back to the early 1900 which was well known to the ancestors of the First Nations living in the area as Island of Gold.
Gold Island Forest Products began as a hobby sawmill project in the early 1980's. Tom Kanigan (third generation) and his father Cecil Kanigan initially started the project by rebuilding and fabricating much of the equipment that Gold Island Forest Products currently operates.
In 2003, Tom and sons Trevor and Jody decided to put this vision to work and began to assemble the project on a newly purchased piece of property in South Slocan and started manufacturing lumber and custom cut timbers.
Over the years 2007, 2011, 2013 – 20% of yearly revenue sales has been reinvested back to upgrade the Mill Operation for cost effectiveness and to meet requests by the consumer.
Gold Island Forest Products continues to upgrade and streamline its operation with steady reinvestment to meet supply and demand of individual customer orders.
Tom is currently responsible for all of the maintenance, fabrication projects and construction activities at Gold Island Forest Products site coupled with his Business ethics.
We are a small family run business that has grown from a three man operation to a successful l Mill offering full time employment to 9 staff employees all living in the local area.
The staff at Gold Island Forest Products takes pride in working with their customers to make sure they get the best product for their needs.